Box Trailers
We build all our box trailers to the highest standard in our on site local factory. All our box trailers are made with all australian made steel to ensue a qaulity end product can be custom built to your requirments these are built to order and are not in mass production.
We also stock Australian made Trailers2000 galvanized trailers as another option.
common sizes listed we can custom build to any size.
Trailers In Stock Vist us on Facebook

Product name Single Axle on road 750kg Box Trailers
Specifications
Trailer Panels are a 2mm Zincanneal
Drawbar 65x35x2.5 RHS and 75x50x3.0 RHS
Chassis 40x40x2 RHS and 50x50x2.5 RHS
LED Varivolt lights fitted
Spare Wheel
6" swing-up jockey wheel mounted on the draw bar
Painted With a hammertone Paint
12 Months registration
New 14" light truck tyres on white wheels
Trailer Sizes
6X4 ( 1800mm L X 1200mm W X 450mm H) $2,650.00
7X4 ( 2100mm L X 1200mm W X 450mm H) $2,750.00
7X5 ( 2100mm L X 1500mm W X 450mm H) $2,900.00
8x5 ( 2400mm L X 1500mm W X 450mm H) $2,980.00
Optional Extras
Hot Dip Galvanizing $750.00
Gas Bottle Holders $ 85.00 fitted
Jerrycan Holders $ 85.00 fitted
Tool Boxes POA depending on size and type
Racks fixed $350.00 pair
Racks drop in $480.00 pair
Extended Drawbar $ 85.00
Maunal Tilt $225.00
Galvanized Cage $585.00
Brake upgrade 1400kg ATM $850.00
________________________________________________________________________________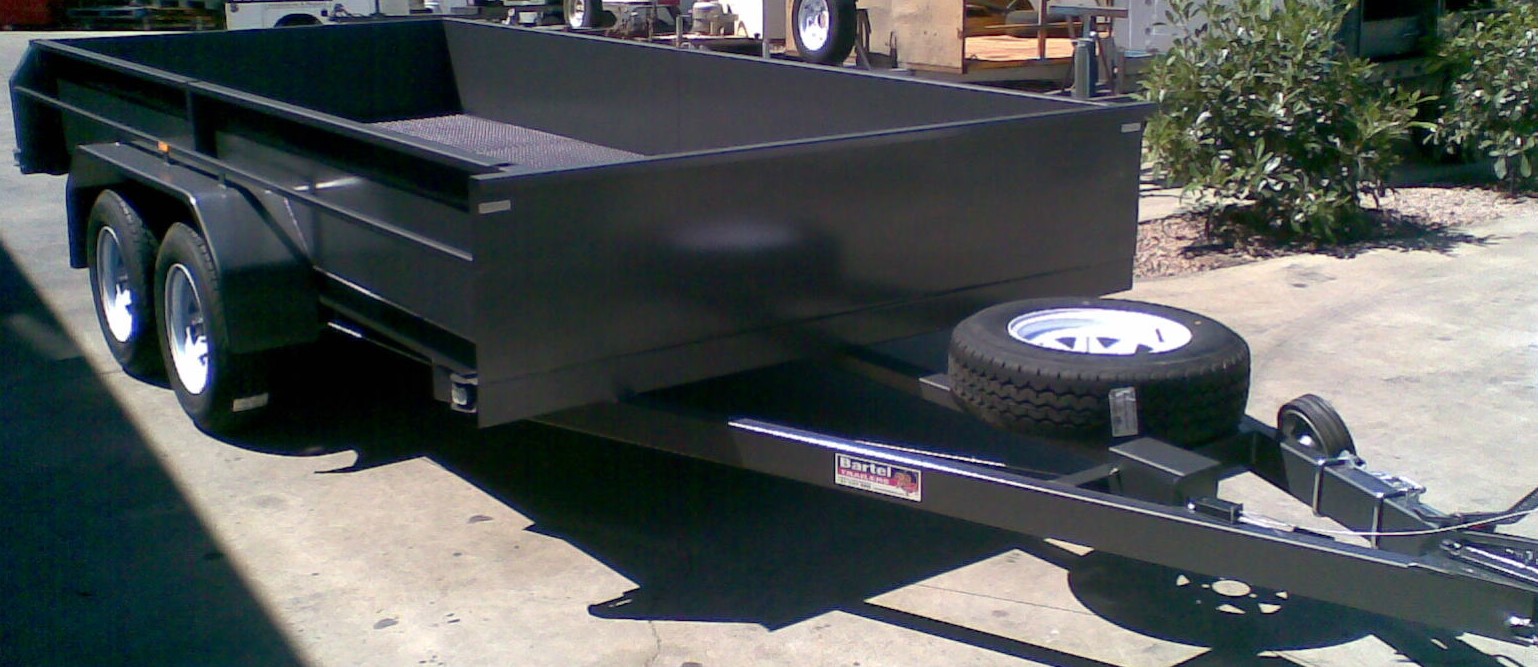 Product name Tandem Axle Box Trailers 2,000kg to 4,500kg ATM
Specifications
Trailer Panels are a 2mm Zincanneal
Drawbar 75x50x3 RHS & 100x50x3 RHS
Chassis 50x50x2.5 rhs & 75x50x3mm RHS
LED Varivolt lights fitted
Spare Wheel
8" swing-up jockey wheel mounted on the draw bar
Painted With a hammertone Paint
12 Months registration
Overide or electric brakes
new 14" light truck tyres and wite steel wheels
Rocker. roller load sharing suspension other options avaiable
Trailer Sizes
Sizes range from 8x4 upwards
Optional Extras
Hot Dip Galvanizing
Checkerplate Floor
Gas Bottle Holders
Jerrycan Holders
Tool Boxes
Tourno Covers
Extended Drawbar
Cage
________________________________________________________________________________

DESRIPTION : Off Road box trailer single axle 750kg to 2,000kg ATM
Off Road eye to eye shackle springs
Heavy duty RHS chassis
2mm zinc anneal sheeting
45mm square axle other options available
Off road wheels and tyres 5 and 6 stud
heavy duty swing up jockey wheel
led multivolt lights
Optional extras:
Brakes mechanical or hyd disc & drum, electric 10" or 12"
45mm square Parallel 1,900kg axle
55mm round 2 tonne axle
jerry can holders
gas bottle holders
drop in racks
stand up spare
draw bar box
stone guard
hot dip galvanizing
Off road coupling
______________________________________________________________________________________________

DESRIPTION : Off Road box trailer tandem axle 2,000kg to 4,500kg ATM
Rocker Roller suspension
Heavy duty RHS chassis
2mm zinc anneal sheeting
45mm square axle other options available
Off road wheels and tyres 5 and 6 stud
heavy duty swing up jockey wheel
led multivolt lights
Optional extras:
Brakes mechanical or hyd disc & drum, electric 10" or 12"
45mm square Parallel 1,900kg axle
55mm round 2 tonne axles
jerry can holders
gas bottle holders
drop in racks
stand up spare
draw bar box
stone guard
hot dip galvanizing
Independent suspension
Off road coupling